GO CALIFORNIA!!! VOTE BERNIE!!
Share this post and everything you can, because the media is owned by people who don't want you to know the truth about corporate greed and corruption!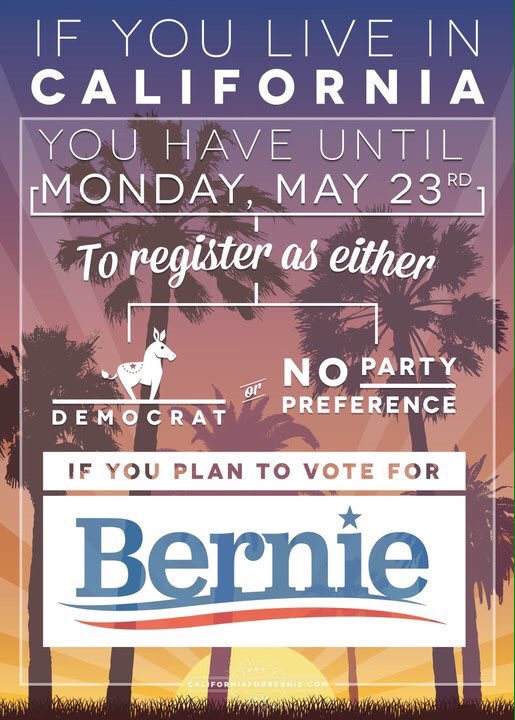 Translated from Google
GO CALIFORNIA !!! VOTO BERNIE !!
Comparte este post y todo lo que puede , porque los medios de comunicación es propiedad de personas que no quieren que sepas la verdad sobre la avaricia corporativa y la corrupción !
— C B Scheel (@CBScheel) May 10, 2016
— Bernie For President (@WeLoveBernie16) May 10, 2016
— Bernie Believers! (@Bernie11901) May 10, 2016
— #BERNIEFACTS (@Bernie_Facts) May 9, 2016
— Sara Cohen (@saracohennyc) May 9, 2016
BERNIE SANDERS! In Sacramento California TODAY: MondayMay 9th!

Free admission Doors open at 5:00 PM. Get there early

pic.twitter.com/UsfDNzpRz4

— Sara Cohen (@saracohennyc) May 9, 2016
— Sara Cohen (@saracohennyc) May 9, 2016
— Joe Khalil (@JoeKhalil_Media) May 9, 2016
— My name is (@RevoltPolitic) May 9, 2016
— Latinos for Bernie (@Latinos4Bernie) May 9, 2016
— Bernie Believers! (@Bernie11901) May 9, 2016
— Sara Cohen (@saracohennyc) May 10, 2016
— Sara Cohen (@saracohennyc) May 10, 2016
— Believe In Bernie (@ND4Bernie) May 10, 2016
— #ForThePeople (@BernieVolunteer) May 10, 2016
— Alison Spalding (@AlisonSpalding2) May 10, 2016
From FB

Kate DeSmet Kulka

Bernie Sanders Activists

"Danny Freeman of NBC News tweeting from Sacramento tonight..."

pic.twitter.com/8DTT0ZHDdh

— Alison Spalding (@AlisonSpalding2) May 10, 2016
— Believe In Bernie (@ND4Bernie) May 10, 2016
— Believe In Bernie (@ND4Bernie) May 10, 2016
— Alison Spalding (@AlisonSpalding2) May 10, 2016
— #BERNIEFACTS (@Bernie_Facts) May 10, 2016
— Beth Salvin (@BethCol77455974) May 10, 2016
— Michael Allen Martin (@michaelallenmar) May 10, 2016
— Mingo Dog (@MingoHowl) May 10, 2016
— Austin, Texas (@BerninForBernie) May 10, 2016
— Educated Voter (@NextPrezUpdates) May 10, 2016
— bernie sanders (@BernieSNewschan) May 10, 2016
— #ForThePeople (@BernieVolunteer) May 10, 2016
— NC For Bernie (@NCForBernie) May 10, 2016
— MaryAlice Parks (@maryaliceparks) May 10, 2016
— Austin, Texas (@BerninForBernie) May 10, 2016
— Believe In Bernie (@ND4Bernie) May 10, 2016
— jennifer dillon (@funkinatrix) May 10, 2016
— Matteo Donini (@taym3) May 10, 2016
— Stanley (@StunnerSYoung) May 10, 2016
— Believe In Bernie (@ND4Bernie) May 10, 2016
http://www.politico.com/blogs/2016-dem-primary-live-updates-and-results/2016/05/sanders-primary-222964